About the African Education Knowledge Warehouse
The African Education Knowledge Warehouse (AEKW) is a pan-African education portal which services African SchoolNet practitioners, policymakers and school-based communities on ICTs in education across Africa.
Home: SchoolNet Africa information and website tools.
SchoolNet Centre: SchoolNet Centre has tools and resources to support national SchoolNets.
Policy Centre: The Policy Centre provides resources and studies to support policy development on ICT integration in education.
Learner Centre: The learner centre house resources for learners and provides space for networking and collaboration among young people.
African Teachers Centre: The meeting place for the African Teachers Network.
Gender Watch: Gender watch houses gender and ICTs related resources and captures voices of women and girls using ICTs for their advancement.
Innovation Watch: Innovations and Innovator to inspire learners and educators in using ICTs for Education
Campaigns: Take part in our One million computers for African Schools campaign!
What's New
---
SchoolNet Africa is one of Africa's first African-led, African-based non-government organisations (NGO) that operates across the continent in its endeavour to improve education access, quality and efficiency through the use of information and communication technologies (ICTs) in African schools. SchoolNet Africa works mainly with learners, teachers, policymakers and practitioners through country-based schoolnet organisations across Africa.
SchoolNet Africa is headquartered in Johannesburg, South Africa where it employs staff from different African countries to manage its programs.
Our Vision
SchoolNet Africa's vision is for the empowerment of all of Africa's children and youth through access to quality education, information and knowledge on the basis of their effective use of information and communication technologies (ICTs).
Our Mission
SchoolNet Africa's mission is to support national SchoolNets throughout Africa by mobilizing resources, building effective partnerships and knowledge in promoting education through sustainable use of ICTs in African schools.
SNA stands for the right of all African youth to education and lifelong learning possibilities.
SNA stands for the right of every African child to have access to information.
We stand for affordable and sustainable access to ICTs in African Schools.
African education content on the Internet.
We work towards developing online content in local languages.
What We Stand For
SchoolNet Africa supports and promotes
the right of every African child to have access to education, information and knowledge
affordable and sustainable ICT access for African schools using a variety of solutions
the creation of locally developed, digitised education content
expression through the recognition of indigenous African languages
multi-stakeholder partnerships within a progressive, development framework
gender integration and women's empowerment
the achievement of the Education For All objectives and the UN Millenium Development Goals
SchoolNet Africa's Network
SchoolNet Africa functions as a network of networks. Its primary network is with schoolnet practitioners, education policymakers, teachers and learners through national schoolnet organisations and groups operating in the following
Countries:
Angola
Benin
Botswana
Cameroon
Cape Verde
Cote D'lvoire
Egypt
Ethiopia
The Gambia

Ghana

Kenya
Lesotho
Liberia
Madagascar
Malawi
Mauritius
Morocco
Mozambique
Namibia
Nigeria
Rwanda
Senegal
Sierra Leone
South Africa
Sudan
Swaziland
Tanzania
Tunisia
Uganda
Zambia
Zimbabwe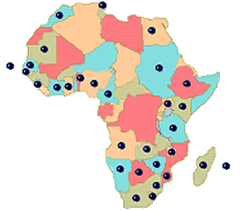 Included in SchoolNet Africa's network is a range of donor and development agency partners and regional organisations promoting ICTs in African schools.
Our History
It all started at a Cape Town workshop hosted by the International Develoment Research Centre's Acacia Program in September 1999, which was attended by SchoolNet resentatives from 10 African countries. The SchoolNet
Africa Case Statement was adopted at this workshop. Later, in November 1999, the African Development Forum '99 (ADF '99) hosted by the UN Economic Commission for Africa (UNECA) formally endorsed the initiative.
With support from the International Development Research Centre (IDRC), a SchoolNet Africa Business Plan was developed and tabled at a Workshop on School Networking in Africa, held in Okahandja, Namibia in July 2000. This workshop was hosted by SchoolNet Namibia, the Namibian Ministry of Basic Education, Sport and Culture, the National Institute for Educational Development, and the IDRC. It was attended by more than 100 representatives from SchoolNet projects, ministries of education, and the private sector from 20 African countries. Here an interim Steering Committee was elected comprising two representatives from all five sub-regions in Africa.
See Report on School Networking in Africa Workshop for more information.
In July 2001, the Interim Steering Committee met for the first time in Cape Town and endorsed the formal establishment of SchoolNet Africa as an independent organization in partnership with the Open Society Institute for Southern Africa (OSISA).
SchoolNet Africa is now an established non-governmental organization headquartered in Johannesburg, South Africa. SchoolNet Africa (SNA) was officially launched on 12 November 2001.